Given planetary resource limitations, we recognize the importance of all industries moving toward a more circular economy. Within our operations, Armstrong supports the transition to increased circularity in the way we are managing our waste streams. We aim to design waste out of our value chain.
Recognizing that construction and demolition account for nearly a quarter of the U.S. waste stream, we are working to integrate a circular economy approach throughout our operations. We are focused on offering products designed with a level of quality that supports long-term usage and minimizes the need to repair or replace. At the end of life, our ceiling-tile recycling program diverts waste from the landfill and becomes input material for our new products. 
Whenever possible, we recycle waste generated through production back into the manufacturing process.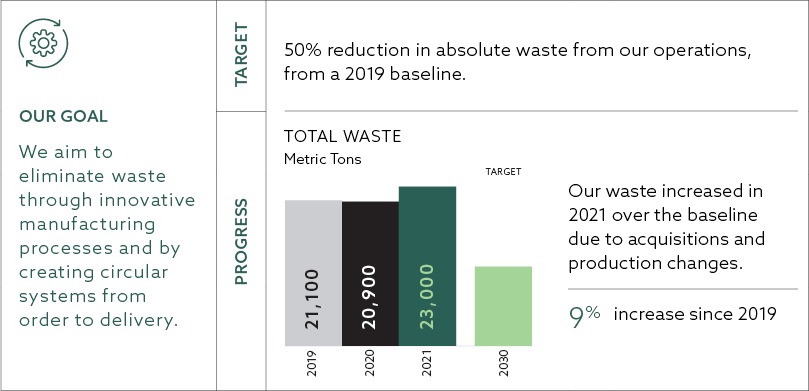 2019 and 2020 figures exclude data from our Montreal facility and our Campus headquarters. 2020 figures exclude data from TURF, Moz and Arktura.
The increase from 2020 to 2021 in hazardous waste was due to disposal of a large amount of chemicals that became unusable due to acquisitions and consolidation of operations.
Certain 2019 and 2020 figures have been updated from previously reported data.
$4.5 T
in economic benefits could be unlocked by the circular economy by 2030, according to the World Economic Forum.