Our purpose is to make a positive difference in the spaces where we live, work, learn, heal and play. As a leader in the building products industry, we aim to lead a transformation in the design and building of spaces so that occupants, owners, operators and communities can thrive.
"Through our ambitious sustainability agenda, we are cultivating thriving environments for employees and communities; more actively meeting demands for healthier, circular products; and doing more with less to preserve and protect our planet's resources. Our commitments build on Armstrong World Industries' historic leadership to recycle and divert waste as we advance next-generation innovation to redefine what "safe" and "healthy" means in the places where we live, work, learn, heal and play. It's how we are leading transformation in the design and building of spaces fit for today and tomorrow."
Vic Grizzle
CEO, Armstrong World Industries
Our sustainability strategy
Our sustainability strategy has three pillars, which we have aligned with the United Nations Sustainable Development Goals (U.N. SDGs).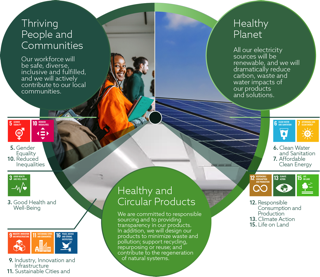 We are committed to responsible sourcing and to providing transparency in our products. In addition, we will design our products to minimize waste and pollution; support recycling, repurposing or reuse; and contribute to the regeneration of natural systems.
All our electricity sources will be renewable, and we will dramatically reduce carbon, waste and water impacts of our products and solutions.
Our workforce will be safe, diverse, inclusive and fulfilled, and we will actively contribute to our local communities.
2021 Sustainability Report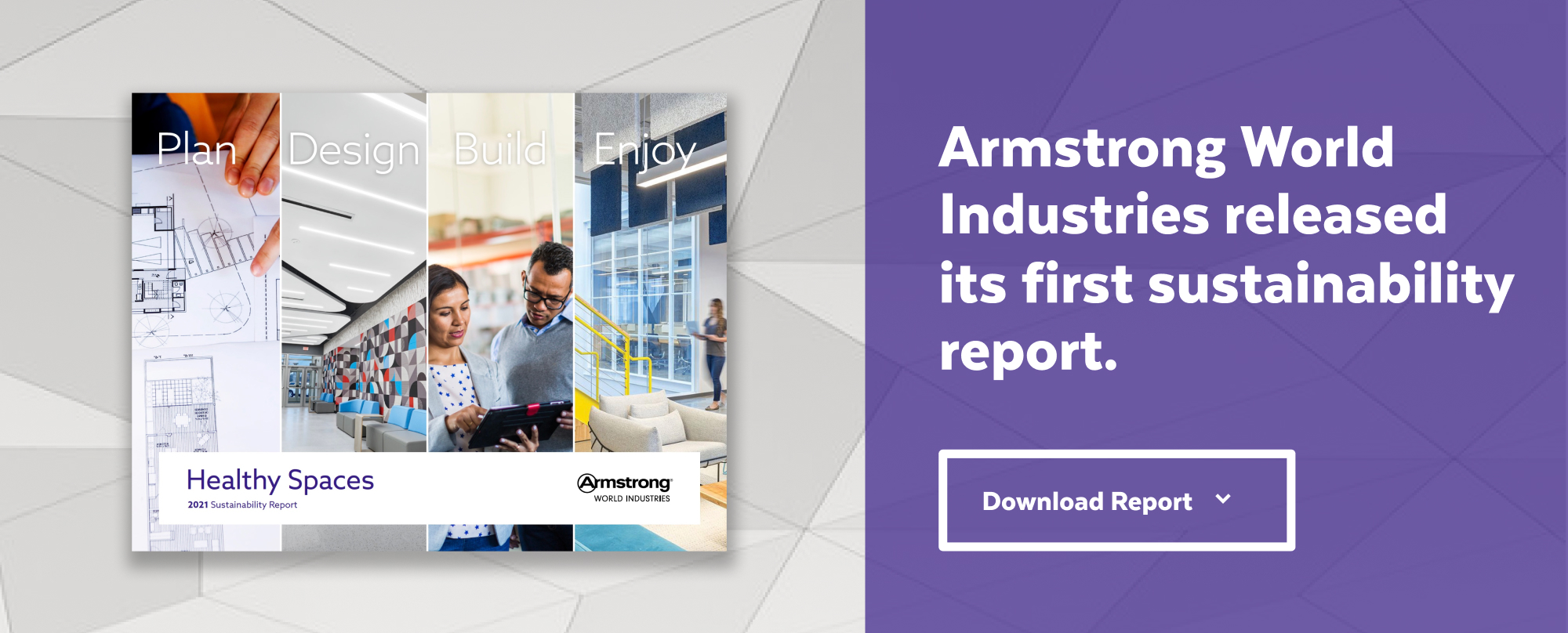 Download our 2021 Sustainability Report to learn more about our sustainability strategy and how we are working to become a Future-Fit company.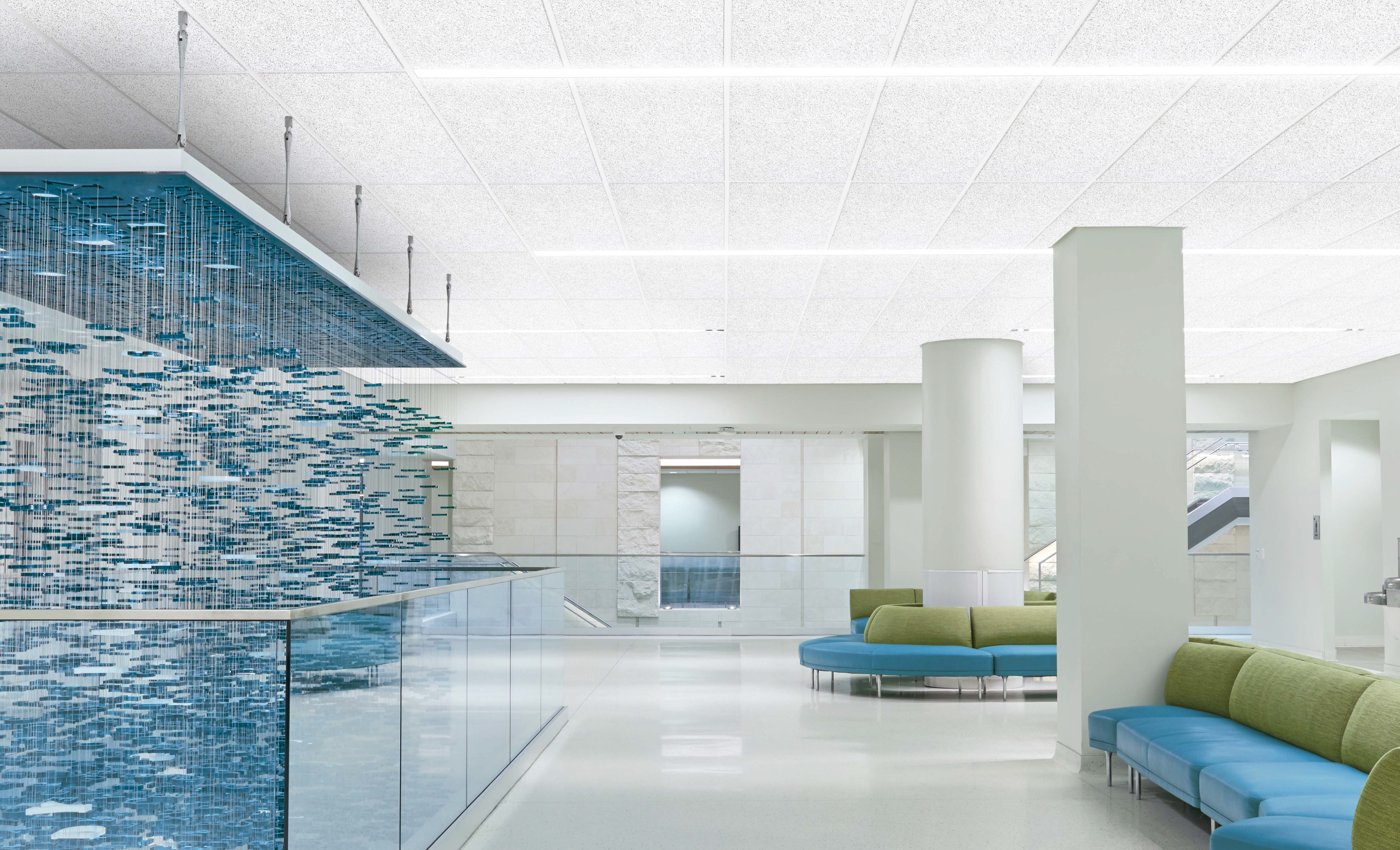 Healthy and Circular Products
SUSTAINABLY SOURCED PRODUCTS
We aim to create products and solutions from healthy, sustainably sourced materials, by eliminating chemicals of concern through sustainable supply chains.
CIRCULAR PRODUCTS
We aim to design our products to be recycled, reused or repurposed and drive circularity in our operations, with customers, and throughout our value chain.
REDUCED CARBON AND WATER FOOTPRINT
We aim to make a positive contribution to spaces and the environment by decreasing our products' carbon and water footprint, and by creating solutions that actively contribute to health and wellness.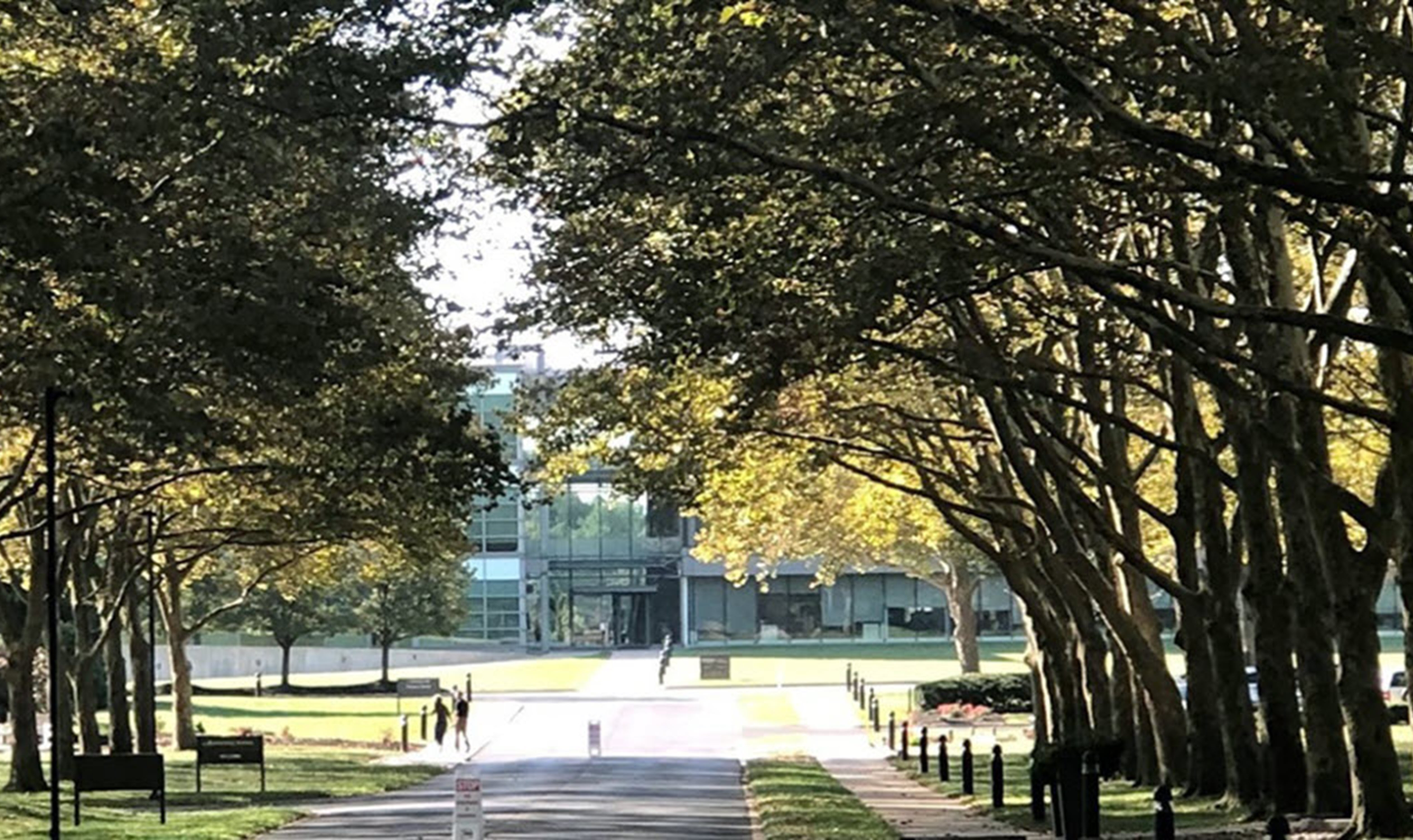 Healthy Planet
REDUCED CARBON FOOTPRINT
We aim to reduce our greenhouse gas emissions and increase our reliance on renewable energy using climate-science based targets.
CIRCULAR SYSTEMS
We aim to eliminate waste through innovative manufacturing processes and by creating circular systems from order to delivery.
OPTIMIZED WATER
We aim to optimize our use of water and contribute to water management and restoration efforts by reducing our reliance and impact on local water systems.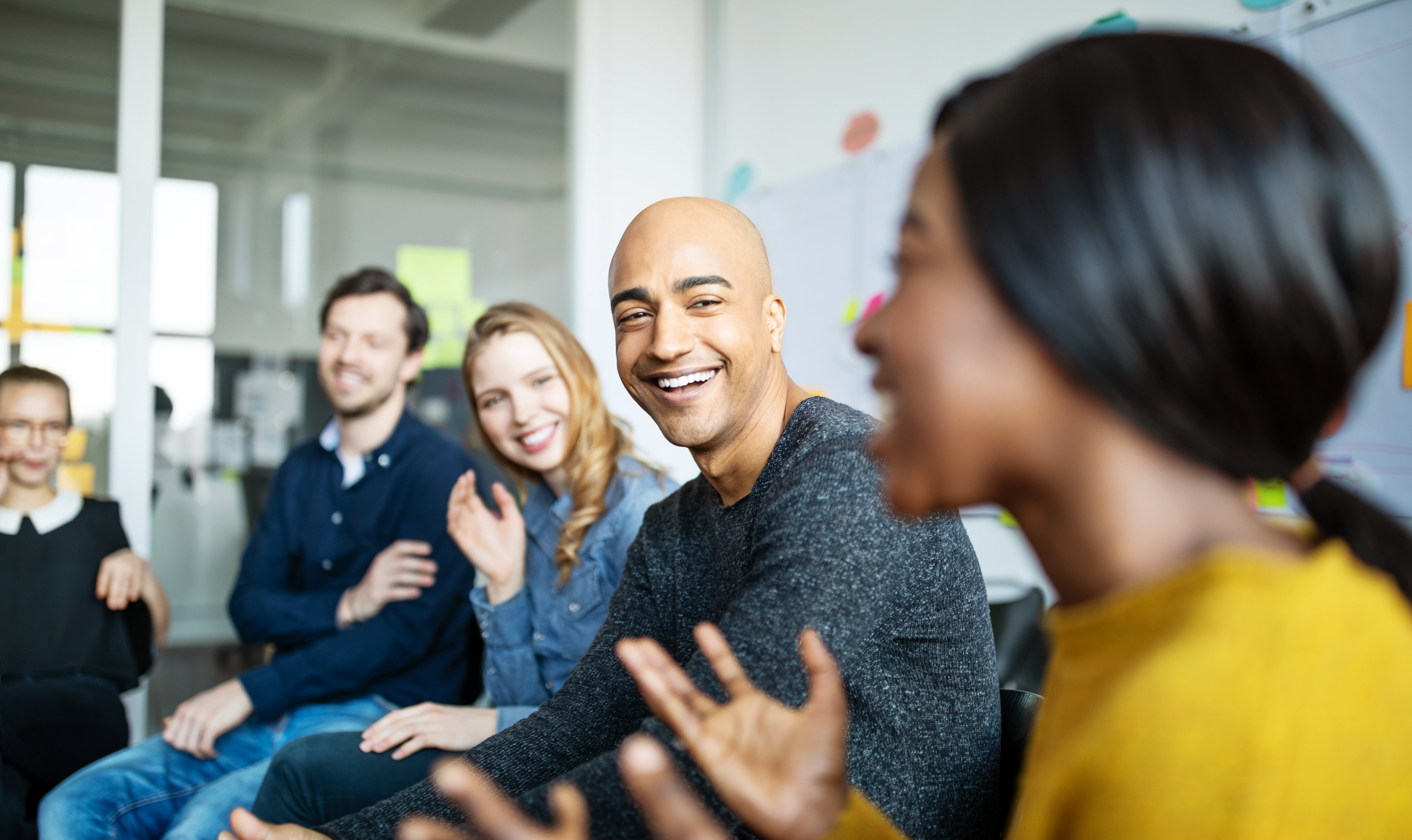 Thriving People and Communities
COMMUNITY ENGAGEMENT
We aim to engage in communities where we operate to make them vibrant places to live and work by strengthening and supporting local programs and fostering impactful relationships.
DIVERSE AND INCLUSIVE WORKFORCE
We aim to develop an inclusive culture and a diverse workforce at all locations.
SAFE AND HEALTHY EMPLOYEES
We aim to cultivate a culture that leads to safe, healthy, fulfilled employees.
Our sustainability targets
In 2021, we established targets and target dates for each of our nine sustainability goals. These targets reflect our current aspirations under each of our goals and will help us monitor, measure and report progress towards our goal ambitions.
Our sustainability goals are supported by specific targets to achieve by the end of 2030. These targets also align with the Future-Fit Business Benchmarks, which are detailed in the Appendix.
Healthy and Circular Products
Goal
Target
Target date
Sustainably sourced products 
100% of our products free of chemicals of concern. 
2030
100% of our products have verified transparency.  
2030
100% of our material sourcing activities evaluated for social, ethical and  environmental performance. 
2030
Circular products 
50% of our products recycled, reused or repurposed at end of use. 
2030
Reduced carbon & water footprint 
50% reduction achieved in the carbon footprint of our products, compared to a 2019 baseline. 
2030
20% reduction in the water intensity of our products, compared to a 2019 baseline. 
2030
Goal
Target
Target date
Reduced carbon footprint 
30% reduction in absolute Scope 1 and 2 greenhouse gas (GHG) emissions from a 2019 baseline, in accordance with the Science Based Targets initiative (SBTi), allowing us to meet a well below 2oC scenario. 
2030
100% of our electricity needs sourced directly or indirectly from renewable energy.
2030
Circular systems 
50% reduction in absolute waste from our operations, from a 2019 baseline. 
2030
Optimized water 
100% of our water management practices include measures designed to minimize usage and environmental discharge. 
2030
Thriving People and Communities
Goal
Target
Target date
Community engagement
Locations formally engaged in local community outreach.
Ongoing
Employees offered opportunities to actively engage in their communities.
Ongoing
Increased community engagement scores year over year.
Ongoing
Diverse & inclusive workforce
Employees receive training or engagement on diversity and inclusion topics on a regular basis.
Ongoing
Locations have a representative diverse workforce.
Ongoing
Employees have a meaningful and safe opportunity to share their views on topics that matter to them.
2030
Safe & healthy employees
Employees offered tools and resources to improve their financial, physical and mental health and well-being.
Ongoing
Employees offered learning and development opportunities annually.
 
Improved workplace safety scores year over year, while we strive to have zero workplace injuries.
Ongoing
Employees offered at least a fair wage, to be defined as competitive total rewards based on position and location.
Ongoing
Explore our sustainability pillars
Healthy Planet
For more on how we are addressing the risks and opportunities of climate change and read more about how we are reducing our environmental footprint here.