The spaces where we live, work, learn, heal and play matter. Our indoor environments can have a significant impact on our health and well-being. At a time when the effects of climate change are intensifying and natural resources are imperiled, the way we design spaces matters more than ever. We're committed to creating products that support the health of both people and the planet. As we look to the future, we have set 2030 goals for material sourcing, circularity and reduction in our carbon and water product footprints.
Please see our new products for more information on the solutions we offer to adapt to changing needs.
Since the COVID-19 pandemic took hold of the world, there has never been a more urgent time to improve indoor environmental quality for building occupants. Armstrong World Industries has a suite of products called 24/7 Defend™ that contributes to healthier, cleaner, quieter and more sustainable spaces with improved indoor air quality. The 24/7 Defend Portfolio offers reassurance to people returning to indoor environments that they are surrounded by materials and systems that work around-the-clock to keep them safer and healthier. The 24/7 Defend Portfolio of products can help to contain air flow, clean the air, and provide ceilings that can be disinfected and dividers that enhance distancing strategies.
Armstrong® SUSTAIN™ is the largest portfolio of high-performance ceiling solutions available today. All SUSTAIN products are free of chemicals of concern, meet low emission standards for indoor air quality, and offer material ingredient disclosures and Environmental Product Declarations (EPDs). All SUSTAIN products contribute to meeting industry green building standards. More information on SUSTAIN mineral fiber, fiberglass, metal, and felt ceilings can be found here.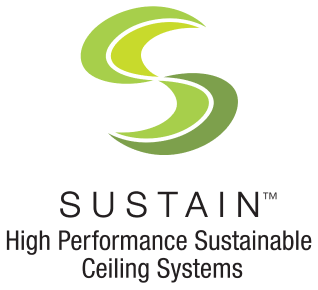 Armstrong World Industries is committed to ensuring that 100% of our material-sourcing activities are evaluated for social, ethical and environmental performance by 2030. Our Supplier Code of Conduct describes the standards by which we expect our suppliers to abide.
We are committed to transparency about the materials we use in our products. We often collaborate with industry organizations to help develop leading sustainability standards, and we engage regularly with third parties to test, assess and certify our products to ensure we meet the industry's most stringent sustainability standards.
Our product transparency page provides all the documentation required for a range of health and environmental certifications, standards and claims, including Health Product Declarations, Environmental Product Declarations and Declare® Labels. We also offer Green Genie, a sustainable product search tool powered by Ecomedes, to assist users in finding sustainable building options that meet their needs.
In nature, there is no waste. We have worked to integrate that principle into our product life cycle for over two decades. We commit to creating circular products and services that reduce or eliminate waste and pollution, keep products and materials in use longer and help to regenerate natural systems.
Since 1999, we have operated our Armstrong World Industries Ceiling Recycling Program. This program gives our customers and us an opportunity to recycle ceiling tiles at their end of life so that they can be remanufactured into new ceiling tiles. This practice has significantly reduced the need for virgin raw materials — by over a million tons to date — and diverts waste from landfill. The program also helps our customers meet their own waste reduction goals, and we provide calculators that directly measure the environmental impact and savings that result from our program.

We joined the Ellen MacArthur Foundation's Network in 2021 to support our continued objective to create circular products and services.

How We Helped CBRE Recycle Their Ceiling Tiles
Armstrong World Industries' TECTUM Receives Living Product Challenge Imperative Certification
Learn More >