At Armstrong World Industries, we recognize our responsibility to protect our shared planet: In order to create healthy buildings and spaces, we need a functioning and stable environment. 
We continue to strengthen our sustainable practices with a focus on sourcing responsibly and building circular manufacturing processes. We aim to minimize our environmental impact by reducing greenhouse gas (GHG) emissions and integrating more renewable energy sources. We're also limiting waste through innovative manufacturing processes and circular economy systems that bring new life to used products. Finally, we're thinking deliberately about how to optimize our water use and contribute positively to water management and restoration efforts where we operate.
You can learn more about our company-wide environmental policy here.
The threats we all face from climate change have never been more urgent. As world leaders struggle to coordinate a response to the crisis, companies have an opportunity to lead the way. Armstrong World Industries is committed to transparent action on the climate crisis, and in April 2021 we joined the SBTi to set goals in line with the Paris Agreement under the United Nations Framework Convention on Climate Change. Working with the SBTi, we set an internal goal to meet a well-below 2°C target and have committed to reducing absolute Scope 1 and Scope 2 GHG emissions by 30% from a 2019 baseline. This would offset all of our electricity usage and a portion of our natural gas usage. We are continuing to work with the SBTi to set a Scope 3 emissions goal that would help limit global warming to well-below 2°C above pre-industrial levels.
 
2019
2020
Scope 1 and 2 emissions
(tonnes CO2e)
365,802
325,300

Note:
Data does not include emissions from our discontinued operations (our international businesses in Europe, the Middle East and Africa (including Russia)(EMEA), and Asia-Pacific, sold to Knauf International GmbH in September 2019)
 2019 emissions data includes the Macon, GA, Marietta, PA, Pensacola, FL, Hilliard, OH, Montreal, QC, Millwood, WV, Mississauga, ON (Plasterform), Marshfield, MO (ACGI), and Johnstown, OH (Steel Ceilings) facilities, but excludes the Newark, OH (Tectum) and Libertyville, IL (MRK) facilities. .
2020 emissions data includes the Macon, GA, Marietta, PA, Pensacola, FL, Hilliard, OH, Millwood, WV, Montreal, QC, Mississauga, ON (Plasterform), Marshfield, MO (ACGI) facilities, but excludes the Johnstown, OH (Steel Ceilings), Newark, OH (Tectum), Libertyville, IL (MRK), Oakland, CA (Moz Designs), Elgin, IL (TURF Design) and Los Angeles, CA (Arktura) facilities. 
Armstrong World Industries acquired the following business in the last five years: Tectum (January 2017), Plasterform (May 2018), Steel Ceilings (August 2018), ACGI (March 2019), MRK (November 2019), Turf Design (July 2020), Moz Designs (August 2020), Arktura (December 2020).
CO2e refers to carbon dioxide equivalents.
We have not verified our greenhouse gas emissions data with a third-party assurance provider.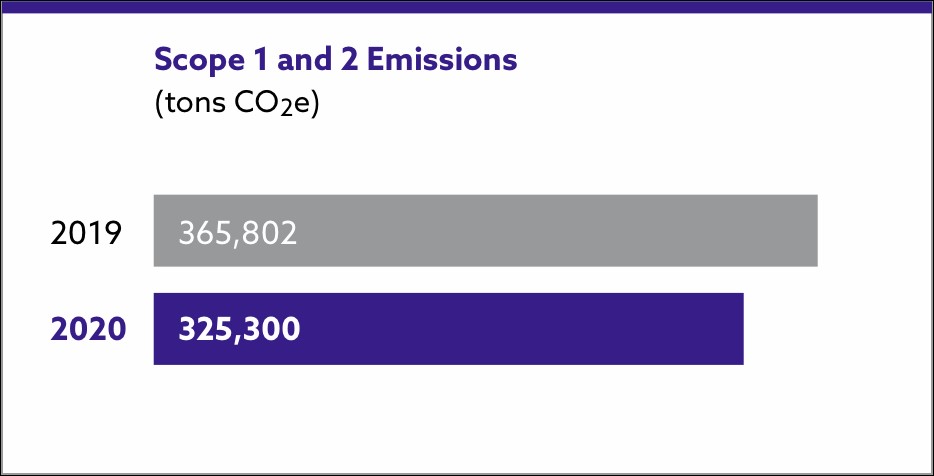 Looking forward, because our most innovative, high-quality products are more energy-intensive to make, we will be challenged to balance the long-term benefits to customers with our goals to reduce emissions.
While we do not operate in any areas considered high water stress, meaning water demand is much higher than the renewable water resource available in the region, we are mindful of our responsibility to limit our resource consumption. As we upgrade our facilities, we are able to achieve greater efficiency of water and energy use. In 2014, we installed a new water filtration plant at our Marietta, Pennsylvania, facility. 
Over the past few years, we continued our work to turn the old Wastewater Treatment Plant Landfill at our Macon facility, which had been in operation since the 1940s, into a productive ecosystem. Since 2016, we have worked with the U.S. Environmental Protection Agency on mitigation measures for this Superfund-listed site to ensure that soil contaminants like polychlorinated biphenyls (PCBs) would not enter the local drainage system. We also partnered with the Pollinator Project, a non-profit focused on protecting pollinating species, to restore the landscape by turning it into a 4.5-acre meadow planted with 20 native plants that attract and support bees, butterflies, birds and other species crucial to a functioning ecosystem.