In 2020, we conducted a materiality analysis to define and prioritize key environmental, social and governance (ESG) issues. We used the results of this analysis to inform Armstrong World Industries' sustainability strategy and reporting.
To identify our material issues, we assessed key ESG external reporting frameworks, including the Task Force on Climate-Related Financial Disclosures (TCFD), Sustainability Accounting Standards Board (SASB), Global Reporting Initiative (GRI), and the Future Fit Business Benchmark. We also considered material issues identified by key ESG raters and rankers, including Institutional Shareholder Services, MSCI, and Sustainalytics, as well as an analysis of competitive sustainability reports. We then conducted interviews with approximately 20 stakeholders, including architects, designers, certifiers and distributors, and internal leaders on areas of impacts, risks and opportunities.
We identified over 100 sub-issues and then clustered them into 27 issue groups. These issue groups were then prioritized in terms of their impact on stakeholders and our company overall.
The resulting analysis was reviewed and finalized in a workshop conducted with a cross-functional group of internal subject-matter experts. We have included a summary of our material issues in the table. Our top-rated material issues informed the selection of our program goals, and included circular economy, climate change, healthy and sustainable products, and employee health, safety and well-being.

Note:Forward-looking statements / Disclaimers Our Sustainability goals, KPIs, projects, plans, targets and expectations are long-term, directional and aspirational, and, by their nature, include forward-looking statements as such term is defined in Section 27A of the Securities Act of 1933, as amended, and Section 21E of the Securities Exchange Act of 1934, as amended, and such statements are intended to be covered by the safe harbor provided by the same. Statements of aspiration, future events or conditions, including forward-looking statements, are sometimes identified by the words "will," "should," "intend," "expect," "estimate," "believe," "could," "project," "target" or other similar words or expressions. Forward-looking statements in this document may include, but are not limited to: statements regarding our sustainability goals, KPIs, projects, plans, metrics, affiliations, pledges, commitments and strategies. By their nature, they are based upon current plans, estimates and expectations that are subject to risks, uncertainties and assumptions. As such, no guarantees or assurances are made that they will be achieved or successfully executed. Additionally, the Sustainability data, statistics and metrics included herein, unless otherwise specifically indicated, are non-audited estimates, were not prepared in accordance with U.S. generally accepted accounting principles (GAAP), have not been externally assured, continue to evolve and may be based on assumptions believed to be reasonable at the time of preparation, but should not be considered guarantees. We are considering implementing an external assurance process in the future. Except to the extent required by applicable law, we undertake no obligation to publicly update or revise any forward-looking Sustainability statement, whether as a result of new information, future events or otherwise. Our Sustainability reporting may also use certain terms, including those that the GRI Guidelines or other reporting formats refer to as "material" topics, to reflect the issues of greatest importance to us and our stakeholders. Used in this context, these terms are distinct from, and should not be confused with, the terms "material" and "materiality" as defined by or construed in accordance with securities law or as used in the context of financial statements and reporting.
2020 was a year that both illuminated and exacerbated existing rifts in society:
COVID-19 – The pandemic was responsible for millions of deaths globally, along with countless physical and mental health issues. It also laid bare social and economic vulnerabilities and impacts on different social groups.
Climate change escalation – The severity and growing number of extreme weather events and their related disaster recovery-related impacts highlighted how quickly the Earth's systems are degrading, with serious implications for our society — including the most vulnerable populations — as well as the economy..
Social justice – Unprecedented social justice protests spread from the U.S. around the world, building upon decades of activity in the civil rights movement.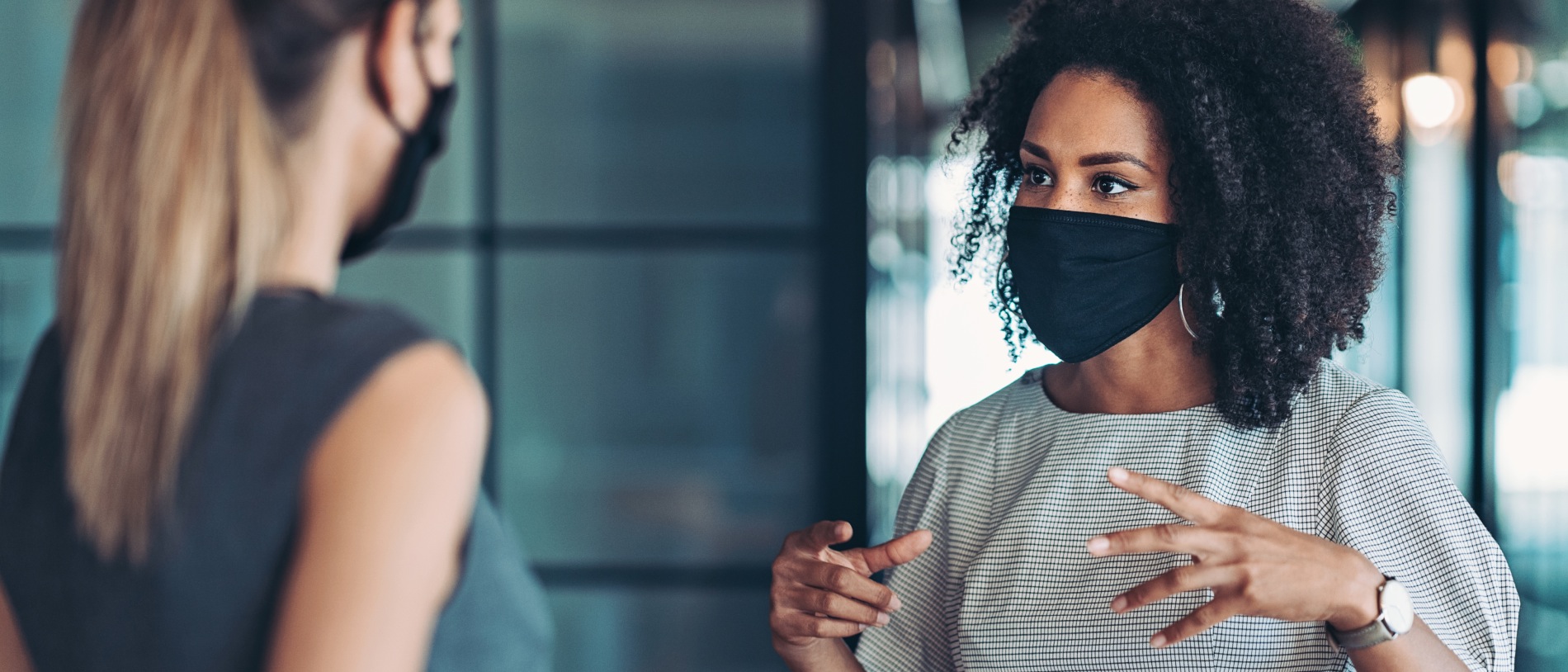 Resilience, health and circularity
2020 brought significant changes in how people live and work and, as a result, many in the building products industry have doubled down on making their products resilient, healthy and circular, while also utilizing technology and digitalization to enhance people's experiences indoors.
Recovery plans around the world promote the concept of building back better. The related economic stimulus packages have been positioned as a way both to address the effects of COVID-19 and, in some cases, to address climate change. This includes funding for renovation, adaptive reuse of buildings and enhancing buildings' sustainability. Interest in building modernization has surged, as leaders around the globe have come to recognize that this can be a response to climate change and also to the post-pandemic recovery. Architects and designers are also focused on designing buildings that support a more holistic vision of health and well-being, and that incorporate concepts such as healthier materials, design for flexibility and enhanced air quality.
As construction waste continues to be a major source of landfill, expected to double to 2.2 billion tons in 2025 globally, companies are applying different approaches. Circular business models offer a solution to reduce the amount of construction and demolition waste to landfill, which the U.S. Environmental Protection Agency (EPA) estimates to represent double the amount of municipal solid waste currently generated.
Companies are also assessing embodied carbon and optimizing their products to reduce carbon — the Embodied Carbon in Construction Calculator has attracted a coalition of nearly 50 forward-looking and innovative building industry leaders. Additionally, companies are considering their ecological impact on landscapes — including on biodiversity and natural resources such as forests and water, with certifications from organizations such as the Forest Stewardship Council.
The push for transparency
As the relationship between business performance, social impacts and climate change — among other issues — becomes more apparent, investors are actively assessing the environmental, social and governance (ESG) performance of companies.
In addition to traditional topics, such as corporate governance and financial performance, investors are taking a closer look at how companies are incorporating the risks and opportunities related to climate change into their strategies and operational plans. In response, new investor-focused reporting frameworks such as the Sustainable Accounting Standards Board (SASB) and the Task Force on Climate-related Financial Disclosures (TCFD) are leading companies to provide greater transparency on these climate-related risks and opportunities.
This increased interest means that companies have become more active in engagement and transparency across their material ESG issues. Product transparency databases, such as mindful MATERIALS (mM) and the Embodied Carbon in Construction Calculator (EC3), and third-party certification and material disclosure programs, including UL GREENGUARD, Declare® Labels, Health Product Declarations (HPDs) and Environmental Product Declarations (EPDs), are becoming prominent resources for assessing the health and sustainability of products, including chemicals of concern, water, emissions, carbon footprints and responsible materials.
Thriving communities and workplaces
With an aging workforce, attracting and retaining employees is critical in the competition for talent. As a manufacturing company, employee safety and well-being continue to be a priority. We also focus on maintaining collaborative employee relations. We believe that offering fair wages with competitive total rewards will enable us to attract and retain the best talent, while helping to increase equity, financial health and overall employee well-being. In order to reflect our customers and communities and create an environment where employees feel safe, welcome and energized to perform at their best, diversity, equity and inclusion are a moral and business imperative.
Companies have reimagined their community engagement approach, looking at ways to channel resources to meet bold goals on health and well-being, whether through charitable contributions or otherwise.
The materiality analysis is as follows: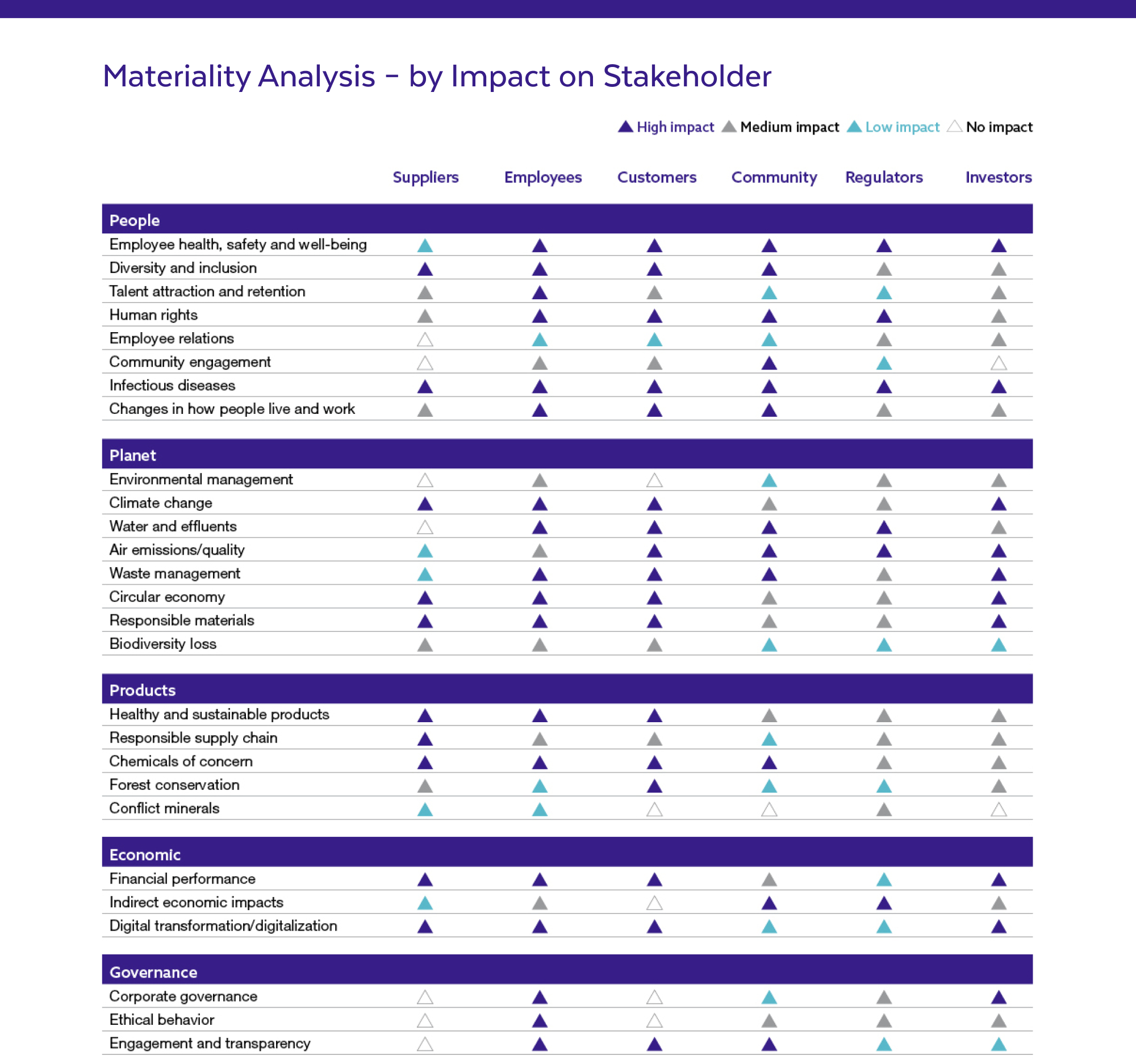 Read our material issues definitions.